108 Mala | Prayer Bead Necklaces | Mala Jewlery
Fall in Love with Your Perfect Mala Bead Jewelry made of Authentic Crystals & Gemstones, personally handmade with careful balancing of the Energetic Properties by Highly Trained Practitioners in Energy Healing to bring the Best Benefits to You as Japamala, 108 Bead Malas, & Mala Necklaces and beautiful Wrist Mala Bracelets
Mala for New Parents 108 Bead Mala Necklace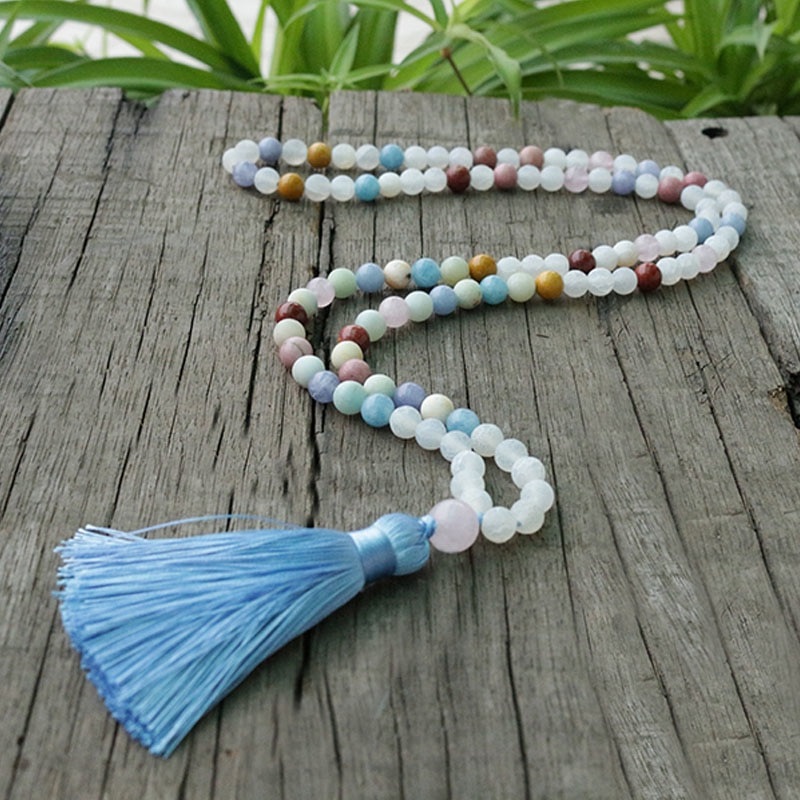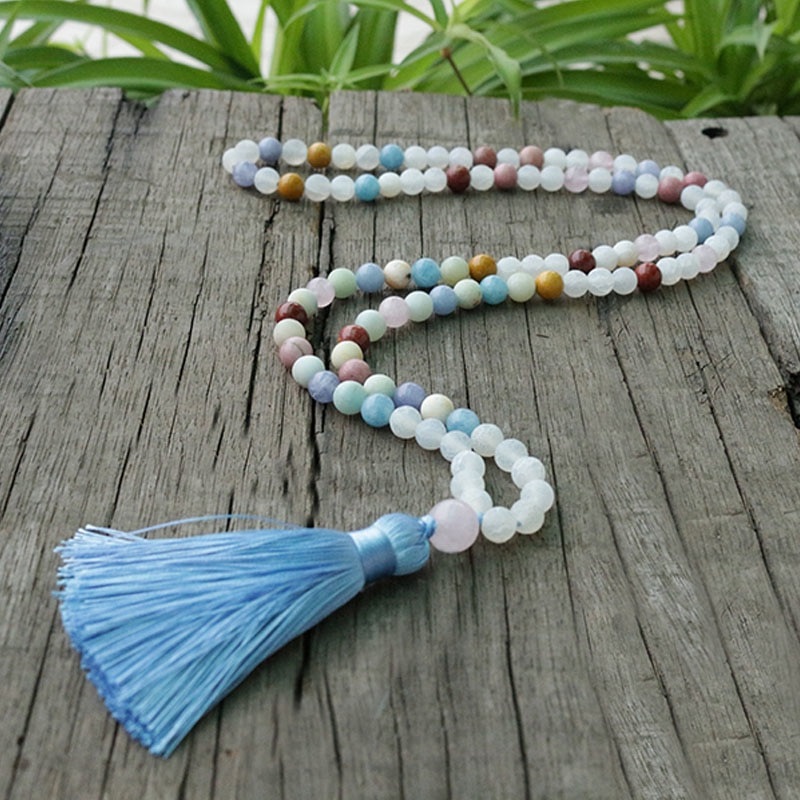 Mala for New Parents 108 Bead Mala Necklace
This is a perfect Mala for new mothers and fathers when expecting and once your new little one has come. This carries amazing peaceful energies of matte Clear Quartz crystals, pink Rose Quartz, lovely hues of Amazonite, and self-loving Rhodochrosite.
For family and friends looking for a lovely way to give acknowledgement and support these matching Mala necklaces are the perfect gift for new parents who have everything, a sentimental gift for new parents, and a non-baby gift for new parents.
✭To read more about the crystals & gemstones and understand how they can benefit you see down below ⇓
Wearing these Mala beads around the neck brings these lovely energies into your physical energy fields to help boost the feelings of calm, well being, and positive thoughts for what is to come. These are incredible beads for both new moms and new dads to increase the well being of both parents during preparation and increases the relationship bonds with positive cooperation and giving of warm kindness.
Energies this Mala brings: calmness, safety, awareness, closeness, couples bonding
Gemstones & Crystals Benefits & Their Healing Properties
Clear Quartz Crystal
An extraordinary gemstone, the Clear Quartz is magical and probably the best known crystal. It is not only incredibly beautiful to the eye it has incredible healing properties that bring amazing benefits into every day life as result of the magnificent properties it carries. This crystal is a master-healer.
Emotionally these crystals will give you and surround you with positive energy. These stones are overall healing of the whole mind-body-spirit and positively benefit mood. These are gemstones for deep soul cleansing.
Mentally they uplift inner-thoughts to a level that is optimistic and non-judging. These stones are so dynamic and sensitive to mental energies that can sense the inner-strength needed and provide a perfect match to depression, a need for change, the desire for more from life, clarity and focus, and better relationships. These are some of the examples of why Clear Quartz is so popular.
Physically they heal dis-harmonies within the physical body and works to release the roots of all illness and pain. These gemstones will support the physical body into balance. They also will support the organs of the body to clear out toxins to detox the blood.
Metaphysically Clear Quartz is the amplifier for all other crystals & gemstones. Using this stone as an amplifier expands the energetic field and impact of another crystal such as the luck attracting properties of the Turquoise and the energy protection properties of the Black Onyx.
Spiritually this stone is an amazing healing stone for all 7 Chakras. It emanates all colors of the rainbow as a full color spectrum which is exactly how it resonates with the Chakras. It also sets the tone for complete resonation.
Clear Quartz crystals are incredible gifts of nature bestowed to humanity for betterment. Wearing these stones in jewelry and holding them during meditation is tremendously beneficial because the stones are brought into the physical energy field of the body-mind-spirit where these particular stones can also sense the being and provide the greatest possible benefits to well being.
Amazonite
Amazonite has a beautiful blue white opaque color and has a steady flowing energy of pure tranquility. It has calming and soothing vibrations that promotes truth and self-worth in its bearer. This is also a great crystal for communication, confidence and leadership since Amazonite will remove fear of confrontation or judgment so you can freely express your true self. Mentally it will assist in providing clarity of thought and gently help to filter out negative thoughts or emotions.
Amazonite has so many wonderful healing properties but one of its best is being able to bring balance, harmony, and peace to any person or space. This crystal can be used by you but it can also be used to create positive energy in work environments, dispelling conflicting energies away from the workspace by its presence.
Because of its calming properties Amazonite can also be used for calming anxiety and releasing depression. By wearing Amazonite around your neck it will assist in opening and strengthening the throat Chakra. This will allow a more confident, harmonious, balanced you to emerge.
Did you know that Amazonite works remarkably well in blocking Electromagnetic Pollution (EMI) and Geopathic Radiation? This will keep your vibration energies clear and light, making it easier to attract positive energies to you!
Rose Quartz
The Lovely Rose Quartz in its purity is a stone of the heart, the Crystal of Unconditional Love. Rose Quartz will draw and attract more loving energies into your life. This beautiful stone will not only attract more love into your life but also assist in strengthening the love you already have. It will support in developing a closer bond with friends and family and build a deeper bond within yourself. It is a great Self Care Healer that will dissolve emotional wounds, fears, resentments, and assist in letting go of past negative memories.
The comforting and soothing energy of Rose Quartz can also heal a broken heart by releasing the pent-up emotions and grief of loss. Rose Quartz clears out anger, jealousy, and resentments allowing the heart to fully heal.
Opening up the Heart Chakra: Rose Quartz is an extraordinary crystal for the Heart Chakra. It opens up the heart for both giving and receiving love, stimulating the true essence of love within you. It will reawaken and activate your heart Chakra to unconditional love and divine pure loving energy.
Rose Quartz works wonders and simply by the presence of this crystal will send calming, soothing, and loving energies not only to you and the people closest to you, but throughout the entire room where your rose quartz is located. Place it near anything that you want to have a positive outcome and this loving crystal will attract the right kind of energies to it.
Physically Rose Quartz stimulates the proper functioning of the heart and circulatory system. This stone is used to clear fluids in the cells of the body and promote the release of impurities. Rose Quartz is also known to help heal breast cancer and is an excellent support stone for most other types of cancer as well.
Did you know that Rose Quartz promotes and strengthens the bonding between a mother and a child and is a very good crystal to wear during pregnancy.
Rhodochrosite
Lovely raspberry-pink in its color the Rhodochrosite stone is a stunning crystal with deep healing properties. This dear crystal emanates one of the most caring and loving energies of any stone. Rhodochrosite is a stone of love, soothing the heart comforting the soul, and vibrating to the frequencies of inner peace. Rhodochrosite is ideal for processing emotional pain as it assists in clearing away wounds and scars of past relationships and traumas and replaces them with nurturing feelings of love and balance. It will stimulate forgiveness, acceptance and unconditional love towards yourself increasing your self-love and self-esteem from the inside out.
This beautiful deep pink stone is perfect for finding and renewing old love. It gently encourages you to open your heart to the Universal Love that is out there for you. The frequency of Rhodochrosite is surrounded by heavenly energies that frees blockages, clears and activates the Heart Chakra allowing for a renewed more confident you to emerge. It cultivates a dynamic and positive outlook on life, as well as a courageous heart capable of taking action to express love and to pursue one's dreams.
Did you know that by wearing a Rhodochrosite bead necklace that goes over your heart is the best way to reap its benefits.
Red Creek Jasper
Red Creek Jasper beads are truly phenomenal gemstones. These beads carry the base frequencies of physical strength within the body that maintain strong energy levels and physical vitality. Think about the feeling of deep strength. If you feel tired in your soul these are the stones for you.
Emotionally and mentally these are calming and focusing stones. They corral deep energy and sense of purpose to help you where you need it most. If you are feeling scared, depressed, isolated, and worried these stones will work to charge your self-confidence and sense of safety. If you are need support to pursue life then these stones provide clear, stable energy frequencies for this. These are versatile stones that adjust to your base needs.
Physically these are protection stones against negativity. If worn on the left wrist they will bring in positive energies and release blocked energies within you that hold negative feelings, painful memories, and heavy burdens locked in your lower body regions that cause chronic digestion problems because of bad feelings that cannot be properly digested. These beads offer energies to help these blocked, stuck energies to release and to ground out of the body. If these beads are worn on the right wrist then they offer protection energies that block negativity from others and from negative experiences. It works like a shield pushing back these forces and keeping a positive area around the physical body.
These are Root Chakra healing stones that are protective stones. They release negativity and energize the body. This stones are incredible and it is easy to understand why they have such a strong effect.