108 Mala | Prayer Bead Necklaces | Mala Jewlery
Fall in Love with Your Perfect Mala Bead Jewelry made of Authentic Crystals & Gemstones, personally handmade with careful balancing of the Energetic Properties by Highly Trained Practitioners in Energy Healing to bring the Best Benefits to You as Japamala, 108 Bead Malas, & Mala Necklaces and beautiful Wrist Mala Bracelets
You're Not Alone Jewelry - Mala Necklace & Bracelet Set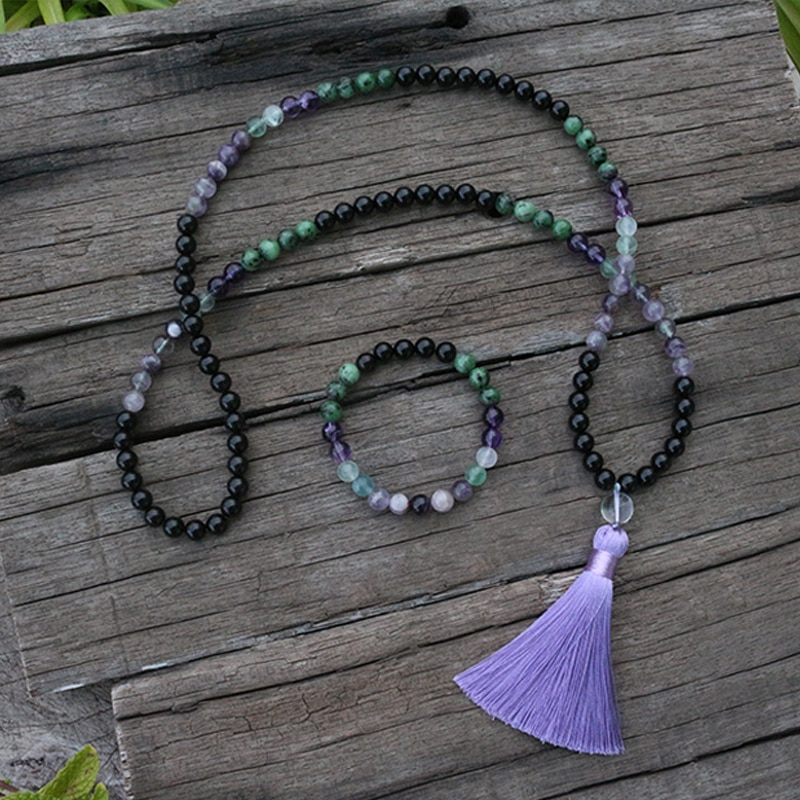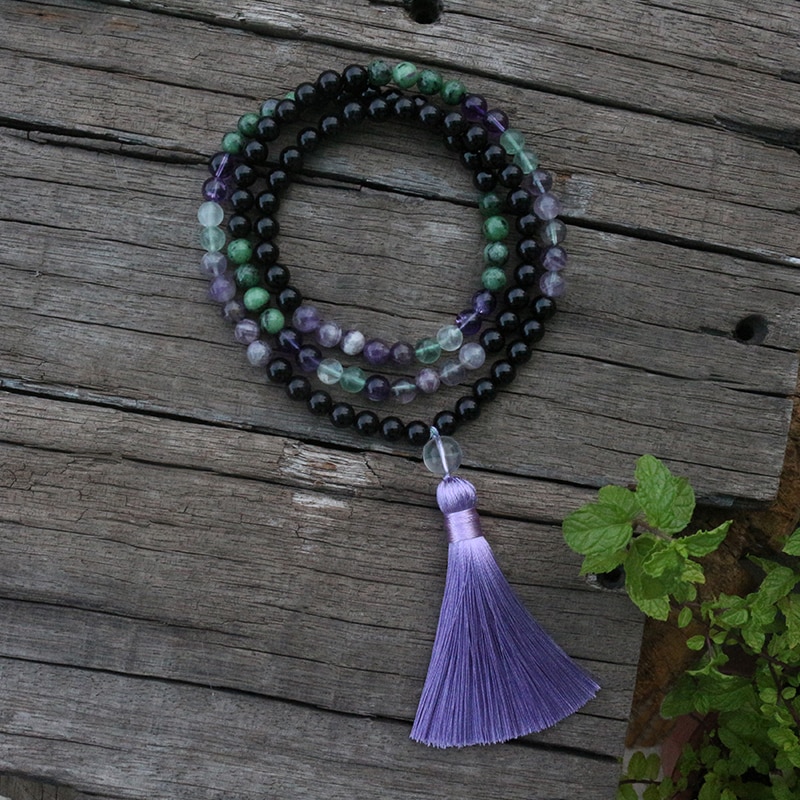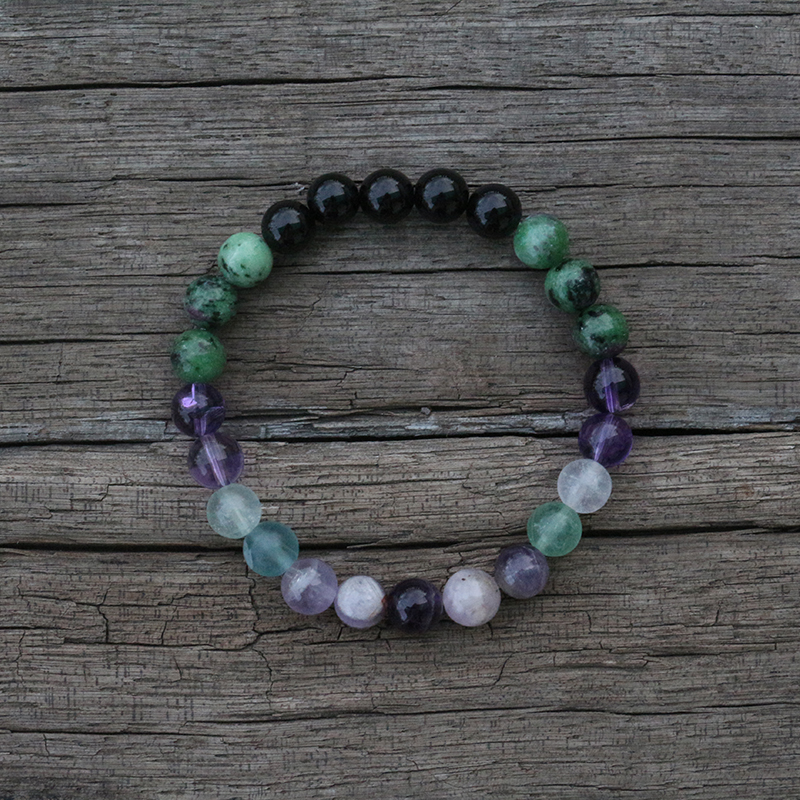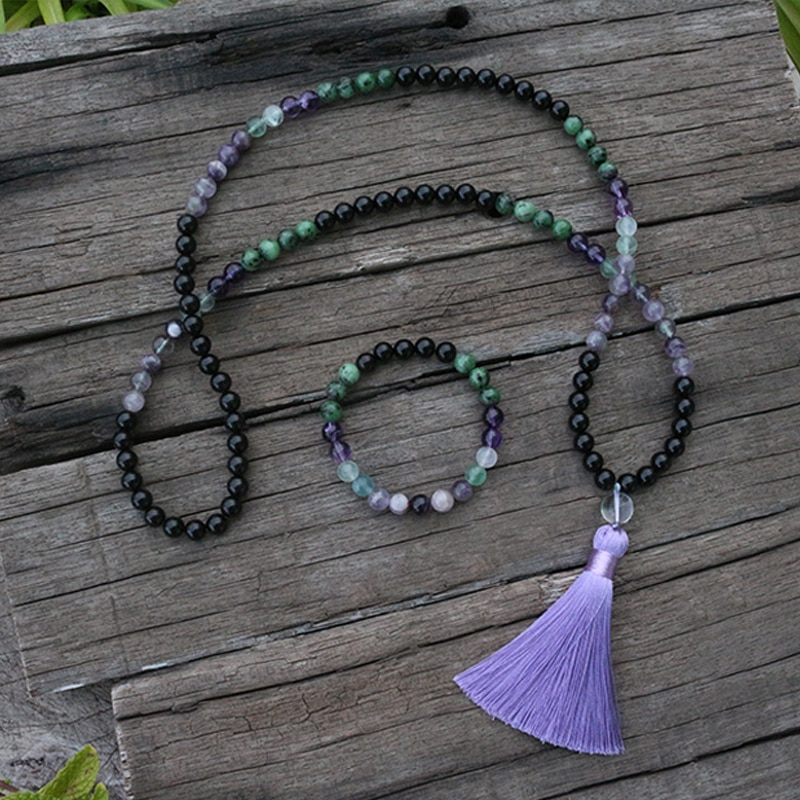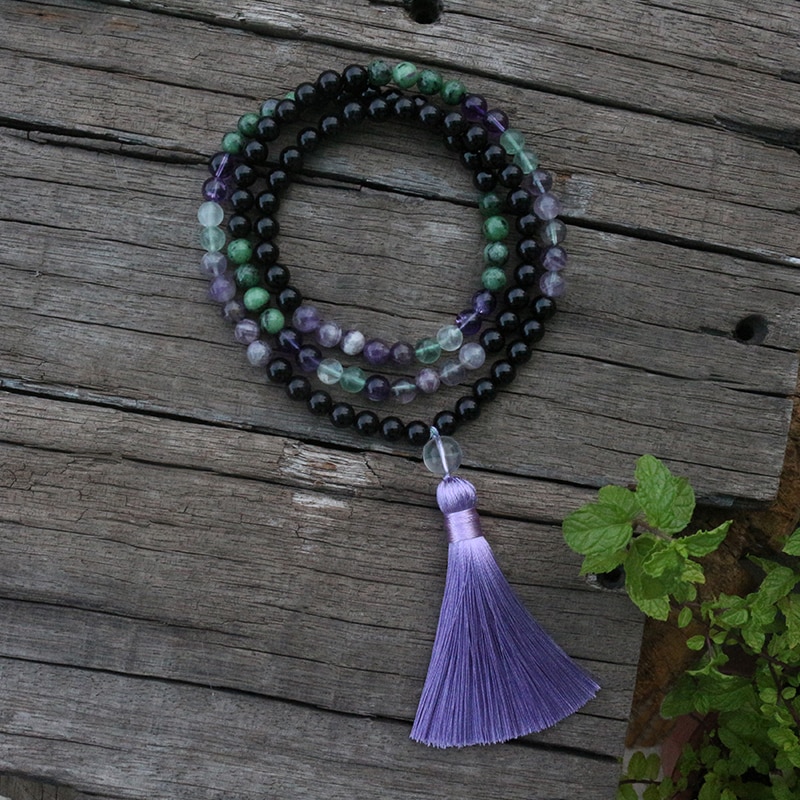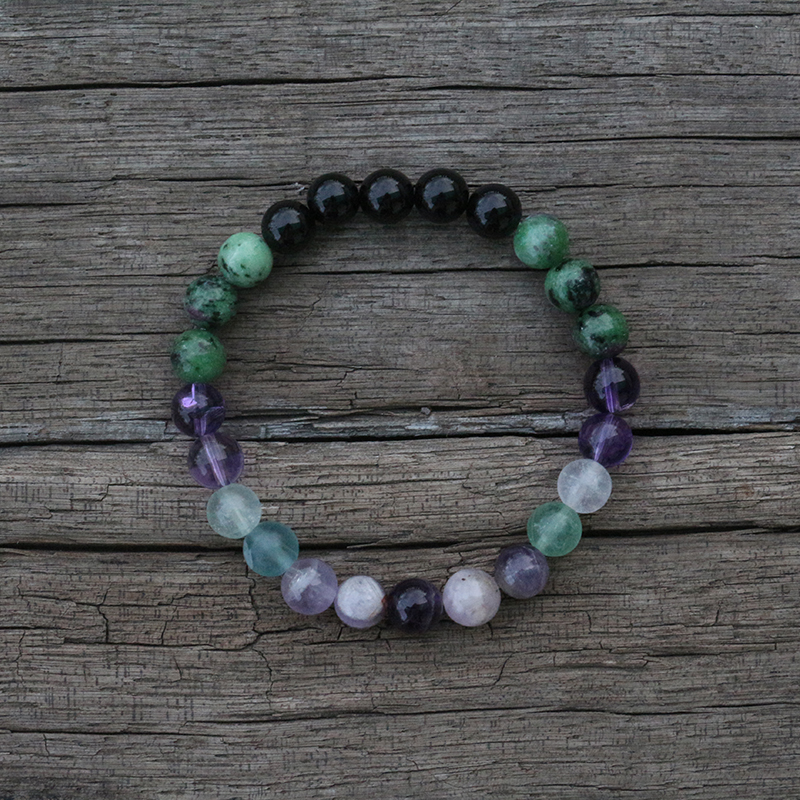 sale
You're Not Alone Jewelry - Mala Necklace & Bracelet Set
You are in the right place if you are asking yourself
How to prevent negative thoughts

How to stop bad thoughts in your head

How to stop negative thoughts about yourself
Soothe the mind-body-spirit with peaceful healing crystals. Shift the direction of your life back onto the right track that represents you and is authentically yours.
Restore peace and joy with fresh energies of hope for better things to come.
✭To read more about the crystals & gemstones and understand how they can benefit you see down below ⇓
Wearing and using these magical crystals and gemstones on the wrist and around the neck brings these positive energy frequencies into physical contact with the Heart and physical energy centers of the body to give fresh, vibrant healing energy. These are crystals to prevent negative thoughts. From these stones your efforts will receive new, uplifting metaphysical crystal energy to bring in good things, positive thoughts, well being, and positive people.
These ancient crystals are beautiful, peaceful, and will inspire you to releasing of old memories that have become blocked in the mind and in the physical tissues of the body. This gives deep healing to the layers of Self.
Beautiful crystals like Amethyst and Fluorite encourage self-care, self-acceptance, and greater awareness of context. Protection stones like Black Onyx will create a protective barrier around you. Use the Ruby In Zoisite beads to uncover and find new insights about your life experiences and what they mean to you.
These tools are here to help you create a new frame for your life and to decide where you are headed. Use these stones to connect the deepest desires of the Heart with who you are in the essence of your spirit.
Energies this Mala brings: Self Care, Self Acceptance, Hope, Awareness, Energy Protection from Negativity
Gemstones & Crystals Benefits & Their Healing Properties
Black Onyx

Black Onyx is an effective protective stone when worn. It provides a powerful energy barrier that pushes away negativity from your mind, your senses, and your personal space. These crystals push away negative people and negative experiences that can drain you. In Healing Jewelry Onyx is worn as a protection amulet to keep the healing space free from negative energies so that positive feelings like optimism, inner-strength, and peace can grow.
These are fantastic healing gemstones for mental health for soothing the emotional parts of the mind-body-spirit. These are crystals for inner-strength and self-confidence. During stormy times when decisions can be complicated and unclear black Onyx brings clarifying, supportive, and protective energy that is a caring touch for calming fears, stress, and worry. The crystals encourage the desire to create stability which lowers stress levels. Using these gemstones for stability lowers all stress be it fears, worries, and anxiety, they even help you fully sleep from insomnia.
Black Onyx is an important stone if you are beholden with heavy grief, or having feelings of deep sorrow, or if experiencing a difficult depression that you can't seem to get past. If anything like this is the case then this stone helps release this blocked energy contained within these feelings. Then this energy can be freed up from the mind-body-spirit. Progress reinvigorates the spirit. Free flowing energy is calm and is focused that can create positive outcomes. And just blow out that breath of air. Finally breathe.
Black Onyx activates the Base or Root Chakra. In addition to being used for energy protection this gemstone is a grounding stone to Mother Earth that enables the grounding out or rooting of energies through the 1st Chakra downward to release them from the body. The Root Chakra is located at the bottom of the spine and is the connection point between the Earth and the Chakras of the body.
Onyx has physical healing properties to heal the underlying energetic imbalances of the physical body in the nerves, the immune system, and vital energy of the body such as the adrenals. These stones boost the immune system helping to build stamina, for preventing relapse, and leading the body into balanced natural health.
Fluorite

Fluorite crystals are blissful gemstones for sleep and will calm insomnia, anxiety, worry, and depression. These are crystals for deep relaxation soothing all parts of the mind, the body, and the spirit.
Emotionally these are peace-giving gemstones that will calm the emotions and lead to soothing feelings that are more balanced, easier to handle, and to acknowledge them freely and unafraid of allowing them to speak.
Mentally Fluorite is a fantastic gemstone for focus and concentration. This crystal removes impurities of the mind bringing them to the surface to be acknowledged and released. This is also a gemstone for reducing computer and electromagnetic stress (EMF/EMI radiation).
Note: Fluorite is a wonderful spiritual gemstone that heals the body versus the chemical fluoride for example in toothpaste and that is put into water systems in cities. Fluoride is disruptive to the mind-body-spirit. Fluorite is a purple, green healing crystal.
Physically Fluorite crystals are gemstones for hormonal realignment and balancing. They boost the hormone glands of the body with positive, harmonizing energies to calm stress-alert hormones (cortisol) and to promote testosterone & estrogen balance within the body. These are crystals for DNA regeneration and healing of body tissues. They will create harmony in digestion and to feel peace while eating for maximum nutrition plus aid the organs in absorption while flushing out toxins.
Spiritually these are crystals for the Heart and Third Eye Chakra. Opening up the Heart Chakra brings more self-awareness and acceptance. Opening up the Third Eye Chakra increases awareness and intuition.
Fluorite are phenomenal crystals for awakening. They give the ability to step outside of the self and see the physical-emotional-spiritual bodies from a new perspective. They encourage making decisions from this greater point of view.
Ruby in Zoisite

Ruby in Zoisite is a magnificent healing crystal carrying two forms of Heart energy; the green Zoisite energy and the pink Ruby energy. This blend of two stones looks beautiful and is perfect to wear as gorgeous jewelry. These are Heart crystals for love.
They bring joy and happiness plus overflowing abundance of positive energy. This positive energy creates vitality that restores and rejuvenates depleted energy of the Heart. The positivity boosts the inner senses of gratitude and appreciation. All of these benefits together start a positive momentum for a tired Heart.
Mentally these are stones of self-acceptance and inner appreciation. They are perfect to amplify the inner voices of self-validation and the dampening of the negative voices and psychic attacks from others and from old memories. This quieting effect on negativity will help turn the tide into an upward encouraging set of inner voices and positive associations.
Physically these are release stones. They ease tensions in the Heart and chest area from old memories and from any current hardship and will increase feelings of hope, optimism, and the belief of better times ahead. Blocked memories and emotions within the Heart and chest causing anxiety, depression heart ache, sadness, and grief will begin to release by the metaphysical frequencies of love contained within the crystals. Wearing these stones around the neck and on the wrist bring these strong positive frequencies into the physical energy of the body to help enable the cycling and grounding of these energies that have been blocked.
Energetically these are stones for healing the Heart Chakra. They increase the craving to heal, to release these heavy energies that no longer can be used to grow, and the desire to take very good care of oneself: the physical body, cultivating good thoughts, protecting against negative exposure, and connecting to greater meaning in life.
Live is meant to be enjoyed. These are stones to release and re-allocate blocked energies into free flowing, positive liveliness. Imagine this new normal, amazing you. These crystals contain the energies to help make this become real for you.
Amethyst
Purple Amethyst is one of the world's most beloved crystals and has been for many centuries. This crystal is not only absolutely stunning but it carries well-known powers to stimulate and soothe the mind. Amethyst is the Earth's natural stress reliever, releasing mental anxiety, physical tension and even headaches.
As you use Amethyst you will begin to experience a stream of calming and harmonious energies flowing through you. It is a stone of peace, calming your worries and fears, clearing your mind and shielding you against negative energies. This will enable you to naturally become more focused, more grounded, and to be free from any negative influence.
Amethyst can also be a great stone for insomnia or if you are looking to improve the quality of your sleep. With its calming effects on the mind it will gently ease you into a more peaceful sleep. Due to the protective properties of Amethyst you will also be free from any nightmares and have more serene and harmonious dreams instead.
Spiritually Amethyst is a gift sent from Heaven. The stone helps eliminate bad or un-useful habits to assist in shifting to a higher state of consciousness. This can be mental or emotional habits, as well as any type of addiction.
Amethyst will increase your intuition and boost your psychic abilities. This stone is also very beneficial if you want to open or clear Chakras and is especially beneficial to Third Eye Chakra and The Crown Chakra.
Did you know that Amethyst is known to support healthy cell growth and regeneration and promote blood circulation which has a direct correlation with hair growth, beautiful skin and an overall healthier body.