Healing Bracelets
Shop and discover incredible men's & women's Boho Festival Bohemian Gypsy bracelet & gifts store. Stone wrap bracelets, crystal beaded cuff bracelets. Round beads, tube beads, rectangle beads, jasper, onyx, tiger eye, amethyst, opal, rose quartz, clear quartz, lava stone, howlite, turquoise, labradorite, lapis lazuli, carnelian, amazonite, agate, tree of life charm, native american eagle eye feather pendant, arrowhead pendant, greek olive branch, copper, alabaster, hamsa amulet jewellery online shop. Find and pick out healing beaded bracelets for Chakra Reiki Healing Meditation & Yoga. Download the free eBook: "Living Your Peaceful Island" to learn more about how do I choose a crystal.
Indian Gypsy Happy Gemstones Cuff Bracelet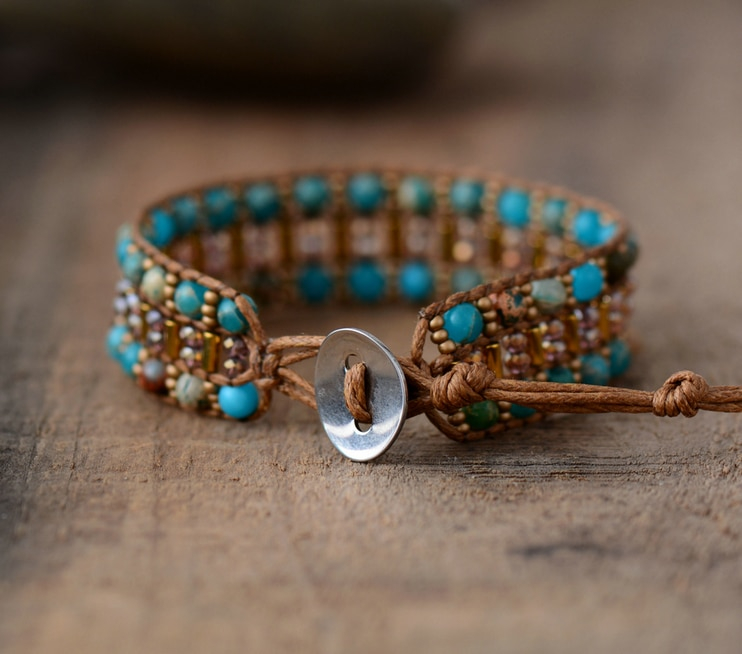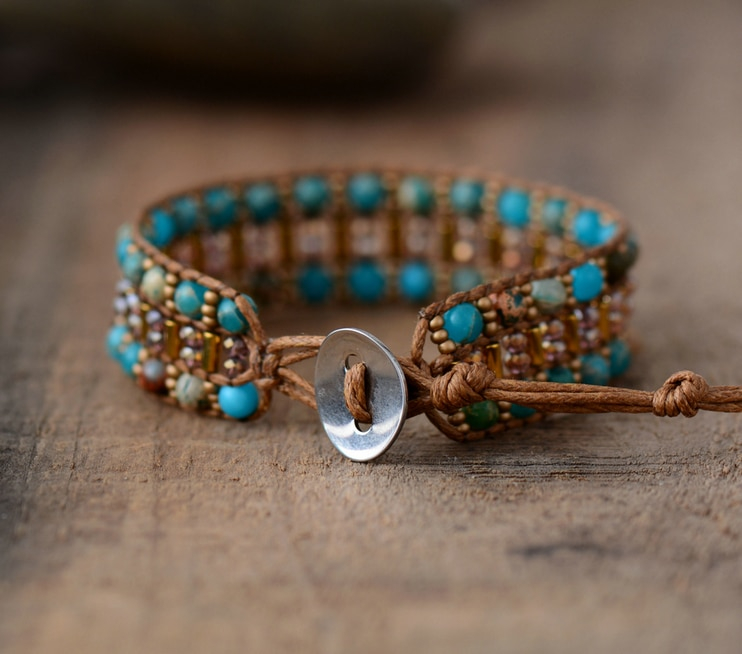 sale
Indian Gypsy Happy Gemstones Cuff Bracelet
Add a extra dance to your step and flair to your perfect outfit with our gorgeous Indian Gypsy Happy Gemstones Cuff Bracelet. This pretty cuff bracelet is handmade of natural stone beads. You deserve a happy heart today. Features genuine leather and Earth stone beads.
↓See down below for the amazing healing properties.
Measurements: The bracelets fits wrist sizes 6.5 inch to 8.5 inch (17 cm to 20.3 cm), fits all.
♡ With Our Vegan Community in Mind: our gemstone wrap bracelets can be made with cord on request ♡
Gemstones & Crystals Healing Properties
Gemstone Crystal Bracelet: When you wear a bracelet of natural healing gemstones and crystals, their energies radiate in all directions. The gemstones energies uplifts and nourish all aspects of your being having unique healing properties and benefits of their own that can help you attain goals, be more positive and much much more. Any gemstone that one wears will greatly impact your life and well being.
♡ Since gemstones & crystals are natural materials, the shape and colors may vary slightly from the picture, making this beautiful handmade item unique just like you!
Related Products